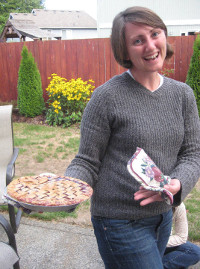 Stephanie Blumhagen is the miller/baker/bread-addict behind Meadowlark Granary. She grew up near Drake, ND and currently lives in Bottineau, ND where she is employed at Dakota College at Bottineau. A proud supporter of farmers markets, Stephanie endeavors to champion "locally grown" and would like to see more North Dakotans buying food from local farms.

Stephanie returned to the farm in 2013 after eight years exploring the forested mountains of Washington State. She found opportunities to be a farm hand for her parents on their small grain farm near Drake, shovelling grain, learning again to drive farm machinery, and planting crops of her own. She also took a Farm Beginnings class offered by FARRMS, a sustainable farming organization in Medina, ND. She moved to Bottineau to take a job at Dakota College at Bottineau and launched Meadowlark Granary in fall 2014 by selling whole wheat flax bread at the Bottineau Farmers Market.

Farmers market shoppers, friends, and co-workers were excited about her home-milled whole wheat bread. Stephanie began taking orders and registered a trade name with the state of North Dakota. She then created a logo, named the new business, and began experimenting with new breads, like banana bread, caramel apple bread, and gingerbread. The bakery also offers two wheat-free nut and seed treats and is currently developing baking mixes using freshly milled whole wheat flour. Meadowlark Granary is a member of North Dakota Farmers Market and Growers Assocation and Pride of Dakota.

It's the enthusiasm and support of customers, family, friends, and community members that has truly helped Meadowlark Granary to take flight. Karen and Arlo Blumhagen, Stephanie's parents, supply all the wheat, flax, eggs and sometimes apples, applesauce, and pumpkin used in the bread. Aunt Raylene provided encouragment and wrote an article about the business for ND Living magazine. Karen at Spectrum Printing in Bottineau gave advice on the hand drawn logo. Deanna and Kristi at the Bottineau County Economic Development Corporation rented out vending space at the Bottineau Tech Center and organized a tasting event held in April 2015. DCB Photography at Dakota College at Bottineau took the beautiful photos found throughout this website. Keith at Aspen Aquaponics has provided business planning and food safety classes and sold Meadowlark Granary bread at his farmers market table. Holly at gardendwellers FARM provided advice and featured Meadowlark Granary's flour and gingerbread cake recipe in the dessert at the 2015 Farm to Table dinner. Sue at FARRMS invited Meadowlark Granary to speak to the 2015 Farm Beginnnings class and purchased bread for the August 2015 Local Food Summit at Dakota College at Bottineau. Wayne lent canopy weights and expertise on outdoor vending and was a very helpful baking assistant. Robert has been a wonderful and patient baking assistant, has lent a thoughtful ear and sound thinking. Thank you to the customers who come back for bread week after week and who comment that they enjoy the bread or that the bread reminds them of their grandmother's baking. This is the fuel that keeps the baker's fires going through late night baking sessions. There are so many people who've helped and supported this venture. If your name is not listed here and it should be, please know that Meadowlark Granary is so grateful for your help and support.